BalletBodyLogic (level 4) with Annemari Autère 3-9 Jul 2019 _________________________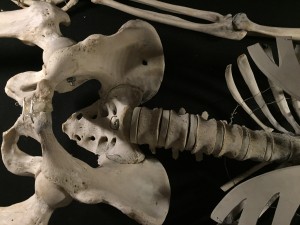 BalletBodyLogic, created by Annemari Autere, is an innovative approach to movement analysis. Her vision of the muscular system consisting of inside and outside muscles where technique is taken care of by the deeper laying res muscle fibers, offers a unique approach to mastering the dancers' instrument – the body. Based on basic movement patterns and the study of the fundamental principles of verticality and alignment BalletBodyLogic allows each dancer to approach an ideal skeletal alignment and thus effortlessly control various dance techniques. To cite Mabel E. Todd, "Why hold our bony parts together when we can let them sit or hang?"
For more information see: http://www.annemariautere.com under Workshops.
Every day a specific theme from the BalletBodyLogic movement analysis system will be reviewed in
details and applied to a sample class. While reference can be taken from topics addressed in previous
levels such as – letting balance take care of itself, feel pre-feel and re-feel, mastery through
visualisation and imagery, etc., in level 4 classes will be mainly focusing on:
Day 1: Pushing-off Gravity, alignment and effortless balance
Day 2: Spirals and energy lines in Ballet technique & Two sides of the turnout coin: duality
Day 3: Adage and its endless lines of energy
Day 4: Pirouette and its spirals
Day 5: From inner space towards outer space and Jumping with the spine
… And how to teach all this to others.
The programme may vary slightly from its original structure. Participants who have not participated
in previous levels are welcome as each topics would be addressed and revised independently each
day.
Dancer, choreographer and dance teacher, Annemari Autere began her career as a dancer with Norwegian National Ballet, also a member of the Royal Swedish Ballet Company, she has danced in
several television productions and participated in several tours in Scandinavia, Europe, USA and Canada. Associate Professor at the University of Nice Sophia Antipolis from 1997 to 2009, she developed her method, BalletBodyLogic; which led to invitations to lecture and teach at several
universities in Finland, Sweden, the Netherlands, Estonia, Latvia, Spain, Portugal and the United
States etc. in professional schools like the Norwegian National Ballet's Ballet School, the National
Ballet School of Riga and Riga Contemporary Dance Festival in Latvia, workshops at the Arts Printing
House, Vilnius, Lithuania, the ADF (American Dance Festival) in Durham NC., and to companies like
the National Ballet of Riga and Tallinn, 5 Fine dance company in Tallinn, Estonia, Physical Virus
Collective (PVC) in Freiburg, Germany, and to participate with movement sessions and Power Point
presentation at international conferences like IADMS (International Association for Dance Medicine
and Science), NOFOD (Nordic Forum for Dance Research), Tamed (TantzMedicinDeutschland),
UNESCO / CID, WDA (World Dance Alliance). Her book The Feeling Balletbody – Building the Dancer's Instrument Selon BalletBodyLogic was published by Dorrance Publishing Co., Pittsburgh, in 2013.
Dates: 3, 4, 5, 8, 9 July 2019
Times: From 10:00 to 13:00 and 14:00 à 16h:30
(On Sat 6 and Sun 7 July Annemari will be available for private sessions, if interested get in touch at info@dancescience.net)
Conservatoire de la Ville de Luxembourg
33 rue Charles Martel, Luxembourg
Full price 250€/190€* if you register before 12th Jun 2019. One day only: 80€
Independent artists: 120€/100€* if you register before 12th Jun 2019. On day only: 40€
Free for conservatoire and UGDA teachers
Information and registration
info@dancescience.net / phone: + 352 621176263
Le stage est réalisé avec la participation du Commissariat à l'enseignement musicale du Ministère de la culture et du Conservatoire de la Ville de Luxembourg et est reconnu comme formation continue professionnelle pour les enseignants des Conservatoires et des écoles de musique du Luxembourg.
admin
| 10. Jun 2019 |
Uncategorized
|
Comments Off